Bunker Renovation on Middle, Road Nines Complete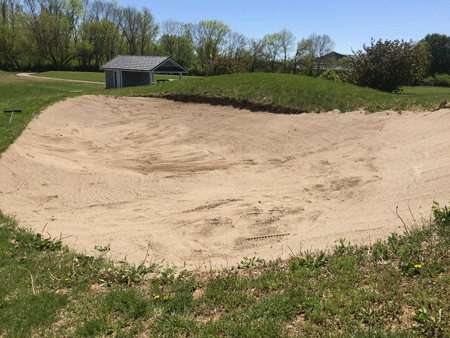 Ted Bishop, 38th President PGA of America
The Legends Golf Club is happy to report that the bunker renovation on the Middle and Road Nines is complete. We finished installing sand last week. It is very gratifying to finish this process which began in early February. So, here are the next steps.
The sand needs to settle and this will happen as we irrigate and get some spring rain. When new sand is installed into a bunker there is about 25% air by volume. This goes away as the sand settles. There were 4 inches of sand put into the greenside bunkers and two inches in the fairway bunkers. These are standard installation depths for bunkers. Despite what you might think about these "fluffy" bunkers- there is not too much sand in them.
We will use our Sand Pro machine to power rake the traps and do as much hand raking as we can. But, we need your help in raking bunkers after you hit shots from them. This will help keep the playing conditions good for all players.
The next project on the Middle and Road Nines will be to prepare seed beds and grass the fairway bunkers that were eliminated. We have contacted a company who will assess the cost next week and we will make the decision to do this work in house or out. In the meantime, these areas will be played as ground under repair.
We will be adding sand to the Creek's greenside bunkers in the near future. We do not have the overall drainage issues with these bunkers as we did on the Middle/Road Nines.
Our goal over the next few weeks is to get into a "full maintenance" mode and detail the golf course. Our crew has been spreading sand three days a week for several weeks and it has limited us on what we have been able to do with other maintenance.
I want to say thanks to Pat Cunningham, Larry Myers, Jason Twyman, Harold Straugh and Nathan Joray for their tireless efforts in completing these bunkers on the original 18 holes. These men along with Michael Lynch our contractor did a fabulous job of making The Legends better for all of us.
I also want to say thanks to all of you for being patient as we complete an improvement that was long overdue. The bunker work along with the overall cleanup at The Legends has really improved the aesthetics of the course. We look forward to a great 2017! #LegendsPride