From the Couch to the Course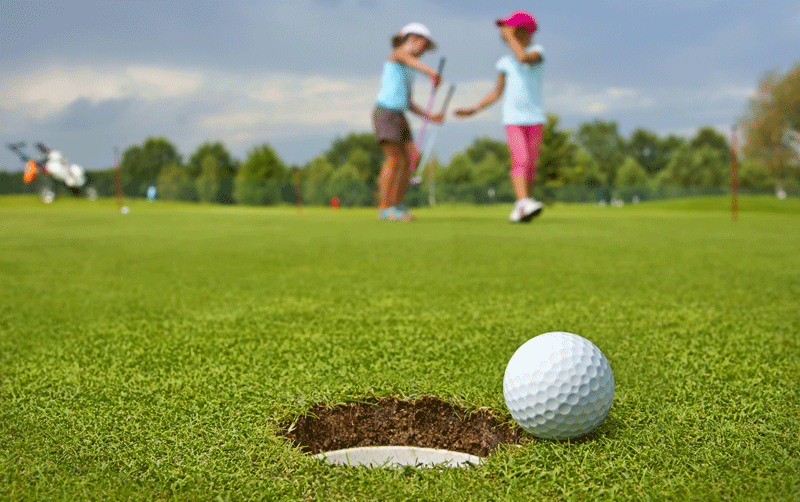 Crystal Morse, PGA Director of Player Development at The Legends Golf Club
If you're looking for a family-friendly activity that will keep your kids off the couch, consider golf. It's a healthy hobby that teaches good lessons about teamwork and sportsmanship.
Here are some tips from golf experts about getting kids into golf.
Let them bring a friend.
Kids will instantly be more interested in golf if you encourage them to bring a friend along for the adventure, says Golf Operator Magazine. Plus, a golf course is a safe and healthy place for pairs and groups of kids. Most other parents will be open to the idea of you introducing their child to the sport.
Learn in stages.
Find a local golf course that offers youth golf education. Explain to your child that they'll learn in stages, starting from the basics and working their way up to the type of golf they see on TV. These sessions are usually broken up into beginner, intermediate, and advanced levels so your child can progress through golf techniques and build confidence.
Celebrate victories, big and small.
Young children in particular might need extra encouragement and rewards to progress in golf. Be sure to celebrate their achievements on the course, as The Legends Golf Club does in their online Junior Corner that celebrates young golfers' success.
Look for youth leagues.
The PGA recommends seeking out local golf groups targeted specifically at children, like PGA Junior League Golf, the PGA Sports Academy, or a Golf in Schools program. In fact, the PGA is now seeing interest in golf from children as young as two or three years old. All ages love the feeling of hitting a golf ball!
Set a good example.
The PGA is also a proponent of parents learning the game themselves first, then teaching their children how to play. Learn the fundamentals in a beginner seminar at a local golf course, then involve your child when you're more familiar with the game.
Explore private lessons.
U.S. Kids Golf Foundation recommends individual lessons as a way to jumpstart interest in the sport and ensure kids start off with good technique.
Go later in the evening.
When your child is a beginner, they'll need extra time and practice to catch on to the game. They may want to spend some time just chasing the ball around and getting used to the course. Golf Digest suggests visiting the course during late evenings, when it's not crowded and you can let your child explore a bit. Contact a local golf course about its best times for children.
Get the right equipment.
Golf Digest also reminds parents to start kids off with the right equipment, because if it's ill-fitting or frustrating, they won't like the experience. Visit a golf pro shop that can fit your child to the right size clubs and other gear.
Watch golf events.
Whether on TV or in person, golf competitions can show your child the details of golf – hitting the ball, moving across the course, keeping score. That's why GolfWeek considers watching golf to be as important as playing, when it comes to teaching children. Be prepared with some stats, because naturally-curious children will want to know who hit the ball the farthest ever, who's the richest golfer, and other fun facts.
Don't keep score.
The National Alliance for Youth Sports (NAYS), which works to make youth sports more accessible and affordable, suggests not keeping score when you first start golf. Further down the line, you can get competitive. But NAYS says to start by explaining the etiquette of the golf course, the basic rules, and the pure fun of hitting the golf ball across grass.
Interested in introducing a young person to golf? Contact The Legends Golf Club.