Our Legendary Course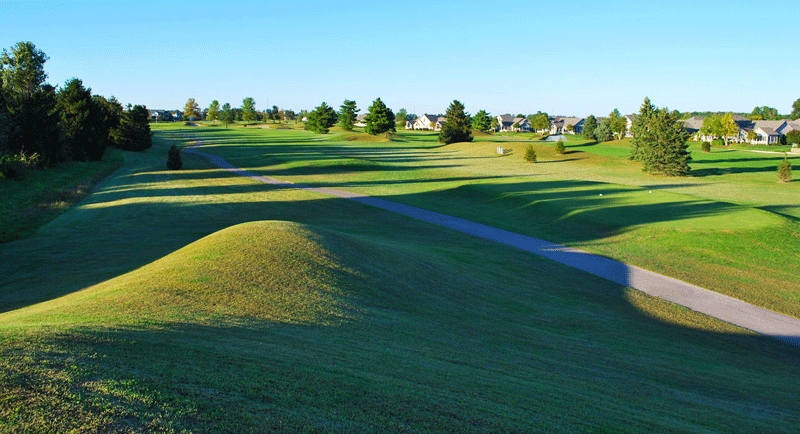 Whether you are an avid golfer, recreational player or new to the game, you can have a Legendary Experience with your family and friends on our acclaimed Fazio course.
For golfers of every level, we offer:
A 27-hole course carved into the beautiful Hoosier countryside and five sets of tees on each hole.
A sporty 18-hole, Par 3 Dye Course.
A superior practice facility featuring the largest grass hitting area in Indiana.
A distinctive Clubhouse that includes a snack bar and comfortable seating.
A Pro Shop featuring golf equipment for all levels and stylish apparel.
PGA professionals available to answer all of your questions, no matter your playing level.
 "Indiana's Best Course", Indiana Business Magazine, 1996
The Legends Course Policies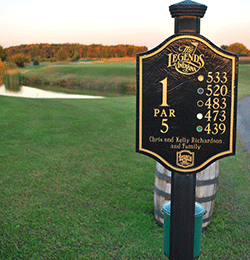 Registration
When you first arrive to the golf course, unless you are here for an event or to hit balls, all players (including members) must register in golf shop before playing the golf course. This helps us control tee times and ensure proper pace of play on the golf course at all times.
Dress Code
Tank tops, half shirts, cut off shorts and gym trunks are not permitted on the golf course. Golf shirts or shirts with a collar are recommended.
Food and Beverage
Indiana state law mandates that no alcoholic beverages may be brought onto a licensed facility. Therefore, no coolers are permitted. Only food and beverages purchased from the course may be taken onto the golf course.
Speed of Play
We hope to achieve an acceptable 18-hole pace for the enjoyment of all players. We monitor speed of play. Depending upon the time of day, a reasonable pace should be maintained. Players who cannot keep this pace may forfeit all fees and playing privileges. Please play ready golf.
Food at the Turn
Anyone who stops at the turn must get food and beverages to go in order to maintain order of play. If you decide to stay in the clubhouse to enjoy your meal, then you will be passed by players behind you and will lose your course position.  There are signs on the 8th and 17th holes that will allow you to call ahead and place your order.  This way your food will be ready if you are in a hurry or do not want to lose your spot!
Golf Carts
Daily policy may restrict carts to paths. You must be at least 16 years old to operate cart. Lessee shall be responsible for damage done to golf cart. Only two riders are allowed per cart.
Rain Policy
Rain checks are only given out when the golf course is closed due to the weather.