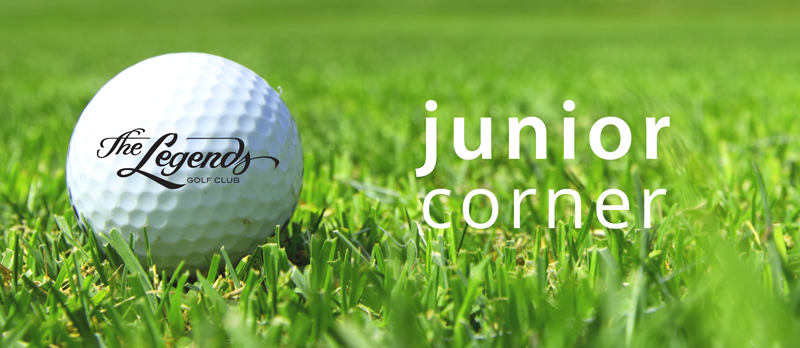 Successful Season for Junior League
Crystal Morse, PGA Director of Player Development, The Legends Golf Club
The Legends Juniors have had a busy couple weeks on the links!
First, congratulations the participants of The Legends Junior League for a successful season, full of fun and learning. We wrapped up the season on July 16, followed by a pool party to cool off on a HOT day!   
They are anxiously waiting until the other league teams play all their matches before the All Star selections are made.
The Johnson County Girls Golf League had a very successful first year and ended the season on July 19. Congratulations to Hannah Emenhiser, Ellie Beavins and Bri Harwell for winning their respective age groups!
Besides league play, our Junior Golfers have been very busy competing in individual competitions. Javan Johnson shot 72-77 to win the 16-19 age division at a  Golfweek Junior Tour event at Hueston Woods Golf Course in Ohio on July 15 and 16. He also finished tied for seventh with solid scores of 71-74 at the Boys Indiana Junior PGA Championship at The Fort Golf Club. 
Peyton Short has been dedicated to his game this summer and it shows. He came back from a triple bogey on the first hole and fired a 76 at an AJGA Qualifier at Crooked Creek Golf Club in London, Kentucky.  Peyton will be preparing for the AJGA All Stars event in Ohio next week. Good luck to Peyton!
The Indy Junior Tour has been providing great tournament experience for many of our young golfers! Elliott Borders has added to his tournament resume by playing tournaments at Smock (seventh place with a score of 95), Sahm (sixth place with a score of 87) and Valle Vista at the Indianapolis City Junior. He shot an 89-88 to finish in fifth place amongst boys in the 12-13 age division.
Also playing in the Indy Junior Tour at Smock was Lauren Pagel who finished third in the 14-15 girls division by shooting a 103 with challenging course conditions. 
We hosted our second Junior Legends 9 Hole Par 3 Tournament on July 13. Congratulations to our top three finishers: Ava Bunker, Nolen Chaney and Reid Davidson.
Along with winning a trophy at The Legends, Ava took home first place in two more IGF Prep Tour events with scores of 42 (Sunrise Golf Club) and an incredible score of 37 at Cascades in Bloomington. Hannah Emenhiser also played in this event (different age division) and shot a 98 which was good enough for third. Keep up the good work girls!
The Drive, Chip and Putt Qualifier is coming up on July 27 at The Legends. Good luck to all the participants. Do your best and make it one step closer to Augusta!
To have information included in The Legends Junior Corner, e-mail Crystal Morse at cjanglea@yahoo.com.