Tips for Outdoor Weddings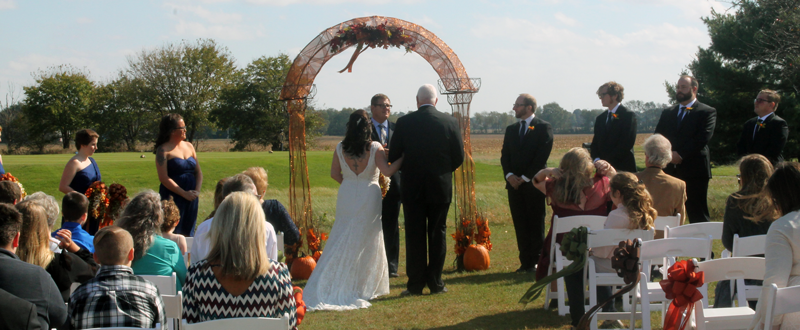 By Ashely Davidson, The Legends Golf Club
It's wedding season, and many couples picture their ceremony in a scenic outdoor setting. Selecting the right venue is the key to having the outdoor wedding of your dreams.
Envision the Details
If a certain park, or someone's beautiful yard, is your perfect wedding setting, go for it! But keep in mind that most parks and back yards are usually not set up for all the demands that come with a big event. Is there sufficient parking? Will food service be a hassle? How will trash be handled? Are there dressing rooms and nice restrooms?  
Public parks and gardens often have very basic bathrooms – and sometimes a setup or smell that isn't very inviting for guests. It's worth considering an outdoor venue that specifically caters to wedding parties, so you know you're prepared for every detail that comes with planning your big day. 
Set the Stage 
Beyond the beautiful outdoor setting, your layout, lighting, and music create the magic of a wedding atmosphere. Does your outdoor venue offer safe and pleasant guest seating, a good sound system, and lighting options? This is especially important if your event takes place at night, as good lighting is key for grassy and rocky areas. The last thing you want is for someone to trip or fall during your wedding.  
This is also a good time to consider photography. You want your outdoor wedding to be captured perfectly in photos, so seek views and vistas that will look good in the background. Ensure that unsightly things like power lines and trash cans won't be visible in pictures. 
Ask for a tour of the space, and ask details about the setting. Will the lighting be adequate to transition from day to night? Will you need to pay an outside company to provide a sound system? How will your guests move from the ceremony to dancing or food service? 
Eating Al Fresco 
Speaking of food, outdoor dining takes a bit of extra planning. Bugs, breezes, and sunshine are naturally part of the outdoor wedding experience, so you'll need a way to keep things delicious and delightful for your guests.  
Have you considered hiring a food truck? These mobile food vendors can offer everything from basic finger food to gourmet dishes – all parked in a convenient spot. Your guests walk right up to the window to select something from a menu of pre-selected options, which keeps food service flowing and fits right in with the outdoor setting.  
Another option is to select a venue that has an adjacent restaurant, banquet hall, kitchen, or caterer. This offers the best of both worlds – an outdoor wedding experience, plus the ease of professional food prep. 
Don't forget about drinks! Make sure your outdoor venue allows alcohol, if you plan to have it, and create a way to keep alcoholic beverages separate from sodas and water.  
Consider Communication 
One disadvantage of having a wedding at a public park or friend's home is that you don't typically coordinate with someone at the venue who is a professional event planner. Your best pal might have great intentions, but does she have experience with wedding details and contracts?  
An outdoor venue with wedding experience often has an event coordinator right on site – someone who can work with you or your wedding planner to pin down all the logistics. They have dealt with wedding details day in and day out. Parking? No problem. Trash? Solved. This prevents you from having to worry about every little detail, and frees you up to enjoy your big day. 
Ready to research your options for an outdoor wedding? Consider a local venue that offers a legendary experience – The Legends Golf Club. 
Ashely Davidson is the Member, Event and Wedding Coordinator at The Legends in Franklin, IN. If you are planning an event, please feel free to contact her or call 317.736.8186.