The Legends Golf Club Staff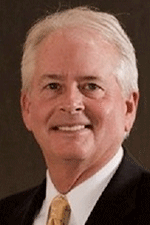 Ted Bishop
PGA Professional
38th President of the PGA of America
General Manager
Ted Bishop has been the General Partner and PGA General Manager at The Legends Golf Club since its inception in 1991. He oversaw the construction of the golf course and worked closely with Jim Fazio, golf course architect.
Bishop served as the 38th President of the PGA of America in 2013-14. During his term many PGA milestones took place.
"Ted Bishop's progressive term as president of the PGA of America seemed to pack 10 years into two and raised the profile and prestige of the organization. Golf is better with Ted Bishop in it," said Jamie Diaz, Golf Channel.
He named Tom Watson as the 2014 U.S. Ryder Cup Captain for the matches at Gleneagles in Scotland. Bishop became the voice for recreational golfers when he led the PGA's opposition to the USGA ban on the anchored stroke. He quickly formed a close relationship with then PGA Tour Commissioner, Tim Finchem, and the two organizations became allies with a strong working relationship. 
Bishop broke the mold and named public golf courses as host sites for the PGA's major events. Bethpage Black became the site of the 2019 PGA Championship as well as the 2024 Ryder Cup. Harding Park in San Francisco was tabbed for the 2020 PGA Championship. He resurrected a strained relationship between the PGA and Arnold Palmer with the formation of the Deacon Palmer Award which is presented annually to a PGA professional who has overcome a major obstacle in their career. Bishop's final impact as PGA President was the formation of the Ryder Cup Task Force which has produced dramatic changes for the U.S. team's entire process.
A 1976 graduate of Purdue University, Bishop has twice been awarded the Sagamore of the Wabash by the Governor of Indiana. This is the highest honor a citizen of the Hoosier state can receive. He was inducted into the Indiana Golf Hall of Fame in 2014. Bishop was named as the Indiana PGA Professional of the Year in 1998 and has received numerous Section awards. He was also inducted into the Logansport High School Hall of Distinction as well as the Linton, IN Hall of Fame where he served as golf professional of the Phil Harris GC from 1976-'92. 
Bishop has been married to wife, Cindy, for 43 years. The couple has two daughters who were standout golfers. Ashely Davidson, played at Kansas University and currently serves as the Membership and Event Director at The Legends GC. She and her husband, Ted, have two children Reid (12) and Remy (8). Ambry Santillo, is the Bishop's youngest daughter. She played at Indiana University. Ambry has been the women's golf coach at St. Johns University in NY since 2004. She is the PGA assistant professional at Saint Andrews GC, America's oldest club located in the Met PGA.       


Email Ted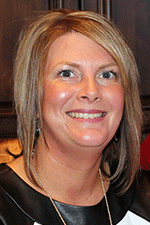 Ashely Davidson
Member, Event and Wedding Coordinator
Ashely grew up playing junior golf in Indiana. She was an outstanding player at Franklin Community High School and earned a full golf scholarship to the University of Kansas.
While at Kansas, she participated in every tournament and earned Big 12 Conference All Academic honors every season, and Most Valuable Player in 2002.
Ashely served on the Indiana Women's Golf Association and is the founder of the Central Indiana Executive Women's Golf Association Chapter.
She also graduated from Leadership Johnson County in 2013, and chaired the LJC Wine Dinner in 2016 and 2017, featuring more than 300 guests.
She co-founded Pay It Forward Johnson County and is active in the Needham Elementary School Parent Teacher Organization.
Ashely and her husband, Ted, have two children. Besides working in the family business, they enjoy spending time as a family, planning parties and driving their children to their activities.
She co-founded and helps organize Pay It Forward Johnson County, a golf event at The Legends that has raised thousands of dollars for local charities.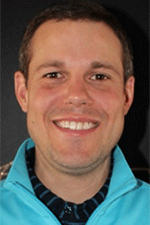 Ted Davidson
Golf Shop and Facility Manager
Ted grew up in Southport, Indiana and graduated from Southport High School in 1996.
He lettered in varsity golf and tennis all four years and was Most Valuable Player and Captain of both teams.
He earned a bachelor's degree in Recreation Sports Management from Indiana University in 2001.
He joined his family's lumber business, Davidson Industries, which was founded in Southport in the 1930s by his great-grandfather. The Davidson family sold the 80-year-old company in 2005 to Stock Building Supply. Ted continued working there until 2008 when he moved to The Legends.
Ted grew up around the game and enjoys golfing with his wife, Ashely and their children.  He also enjoys visiting his family's cabin for fishing along Lake of the Woods in Ontario, Canada.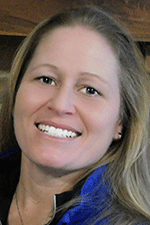 Crystal Morse
PGA Head Professional
Crystal is no stranger to Johnson County, where she was a standout golfer for Center Grove High School. She played at Western Kentucky University, where she was named to the All-Sunbelt Conference team and served as captain of the WKU team her junior and senior years.
Upon graduation, she spent two seasons as a PGA Apprentice at The Legends. Crystal moved to Palm Desert, California, where she earned her PGA membership and spent nine seasons as the Assistant Professional at The Lakes Country Club, a 36-hole private club.
Her teaching has been influenced by legends such as Nicole Castrale, LPGA player, and Bob Goalby, 1969 Masters Champion.
After nine seasons at The Lakes, Crystal became the lead teaching instructor at The Club at Morningside in Rancho Mirage, California. She helped establish the Morningside Golf Academy.
Crystal's husband, Jim, also is a PGA professional working as the Director of Instruction at The Legends. The couple resides in Greenwood and has two children.
Crystal has been the Head Coach of the Whiteland HS Girls Golf Team from 2016-2018 and will continue to serve as an Assistant to the team.  She also is Captain of The Legends PGA Jr League team that is made up of over 48 juniors from ages 7-13 and our 6U League that is a fun, developmental league for kids who are under 6 years of age.
Tony Clecak
PGA Senior Director of Instruction
Contact Tony: 812-343-6622
Jim Morse
PGA Director of Instruction
Contact Jim: 760-567-5995 or jimmorse1@yahoo.com